2023 Best Bosu Balance Ball Exercise Exercise ABS Manufacturer
Combines elements of aerobics, strength, and flexibility for a unique and efficient workout; forcing you to maintain your center of gravity while doing any exercise
The Bosu Balance Ball increases the difficulty of the workout and builds strength faster by forcing more muscles to engage.
Improves flexibility, endurance, strength, and ability through a versatile workout
Has an unstable surface, ideal for rehabilitation and physical therapy
Includes a guided workout and easy-to-use inflatable pump; made of strong, non-slip, non-marking, blast-resistant material that supports up to 300 KGS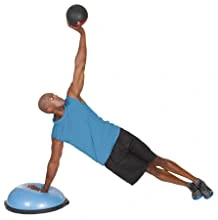 Build Strength
Weight training in combination with the BOSU Balance Trainer adds challenge and helps build strength quickly by forcing more muscles to engage.
Improve Balance
The BOSU Balance Trainer forces you to maintain your center of gravity during any exercise and is a great way to prepare and condition your body for everyday life, and athletic skills and to help prevent injury.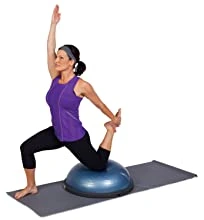 Enhanced Flexibility
Some yoga poses can easily be done with the BOSU Balance Trainer to increase difficulty or improve flexibility, and basic movements can be made easier by incorporating the BOSU into the poses.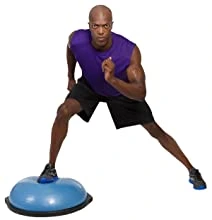 Fine-tune Sport skills
Combine with the BOSU Balance Trainer during weight-bearing exercises for explosive power, quickness, and acceleration. Ideal for sports such as tennis, soccer, basketball, and skiing.