Seated Pedal Exerciser OEM Distributor
This mini-cycle pedal exercise bike can effectively and easily exercise your arms and legs to burn calories and improve your health and blood circulation. It is easy to install, takes up little space, and is portable.
Multifunctional Medical Pedal Exerciser: Its compact, lightweight, and foldable design allow you to carry or use it anywhere, fold it right up and store it easily under a chair or bed; exercise while you work or watch TV, pull up the spring pins on each leg to fold.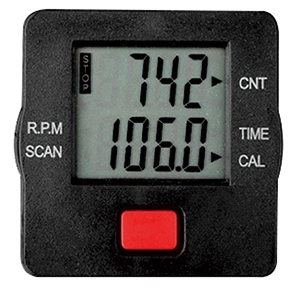 LCD Digital Display
Equipped with a large LCD display for monitoring your workout – showing RPM, time, speed, distance, and calories burned – tracking your progress and making it easy to stay motivated and keep pace.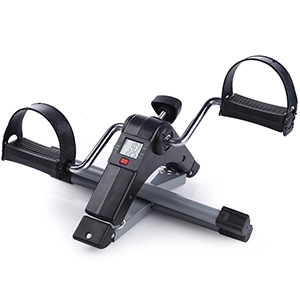 Easy to fold
Folding the bike, you can open it when you do exercise. You can easily fold it up and put it in the corner after exercise, which is great for small spaces. Easy to adjust the tension according to your needs, adjust the tension screw to change the resistance.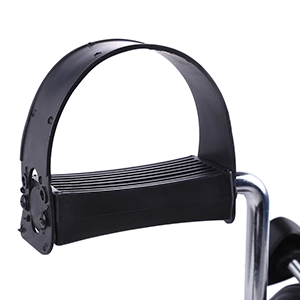 Anti-slip foot/hand pedal
Oversized textured non-slip foot/hand pedal with adjustable toe loop to accommodate a variety of sizes for added comfort and safety, keeping your feet in place and not falling off easily.
Leg Exerciser
If you have a sedentary office job. It is easy to to do some exercise to activate your leg with this mini exercise bike, which could make your muscle relaxed, keep heart rate up throughout periods of the day, and stay healthy with minimal effort.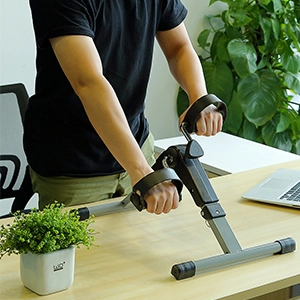 Arm Exerciser
Placing the folding pedal exercise bike on your desk provides a powerful workout for your chest and back muscles, shoulders, forearms and core muscles, preventing unwanted fat deposits and weakening of your upper arm muscles.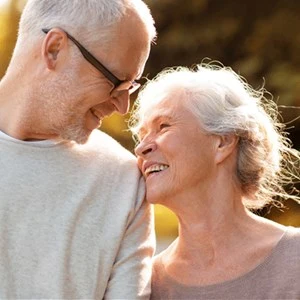 Keeping fit for elderly users
A folding pedal exercise bike can be used not only as part of a regular workout for younger people but also as part of a health program for older users. It can help you do knee or shoulder exercises, which can help you activate stiff legs and arms, etc. Great for family fun and staying healthy.