Best Bowflex Selecttech 1090 Dumbbells Manufacturer Supplier
As with all Bowflex SelectTech 40KG Adjustable dumbbells, you can automatically adjust the resistance from 10 lbs. up to 90lb. with a turn of the dial. No need to pick up 17 different sets of dumbbells to get the results you want!
Change the weight of the dumbbell with just one turn of a knob.
The SelectTech 1090 40KG Adjustable dumbbell adjusts from 10 lbs to 90 lbs of weight.
Weight range: 10 to 90lb for each dumbbell.
Exercises available: 30 +
Weight settings: 17
Weight settings in pounds: 10, 15, 20, 25, 30, 35, 40, 45, 50, 55, 60, 65, 70, 75, 80, 85, 90
Dumbbell dimensions (individual) (L x W x H): 44.5 CM x 25.4 CM x 2.54 CM
Weight (per piece): 90lb / 40KG
Leg Exercises
Wide Squat
Calf Raise
Stationary lunges
Dead Lift with Stiff Leg
Reverse lunge
Lateral lunge
Back exercises
Alternating rowing
Wide rowing
Deadlift
Chest exercises
Flat chest press
Oblique Chest Press
Flat fly
Inclined fly
Chest press with incline
Abdominal Exercises
Ab crunch
Reverse crunch
Prone torso rotation
Lateral crunch with rotation
Leg raises while lying down
Arm exercises
Curls standing
Concentrated curls
Incline bench curls
Scott curls
Triceps overhead stretch
Triceps kickback
Triceps extension lying down
Hammer curl
Shoulder exercises
Standing shoulder press
Lateral lift
Overhead press in a sitting position
Front lift
Tear of the rear deltoid
Shrugs
Product Specifications and Features
Specification:
DIMENSIONS: 17.5″ L x 9.5″ W x 10″ H (44.4 cm x 24.2 cm x 25.3 cm) ASSEMBLY WEIGHT: 92.3 lbs (41.9 kg).
PACKING WEIGHT: 95.6 lbs (45.9 kg)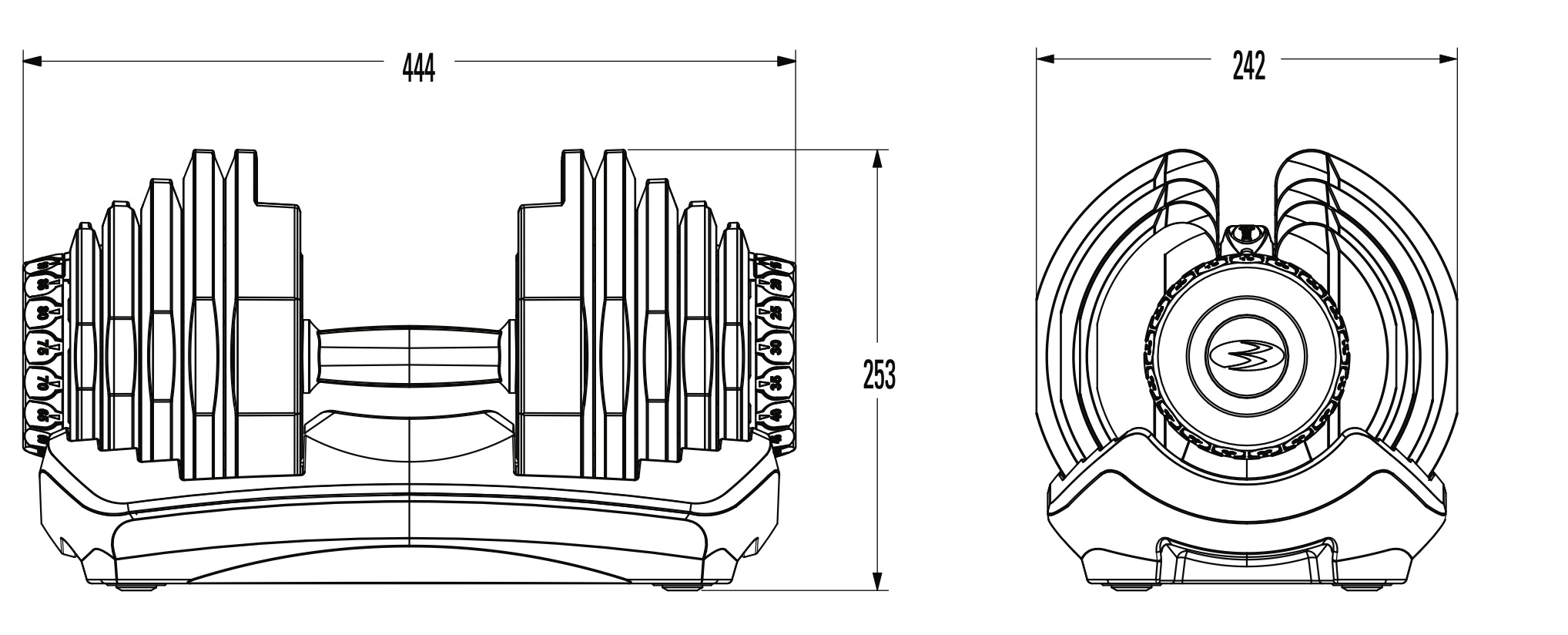 Features
A. Handle Grip
B. Adjustment knob
C. Weight plates
a: 1.1 kg (2.5 lbs) b: 2.3 kg (5 lbs) c: 3.4 kg (7.5 lbs) d: 4.5 kg (10 lbs) e: 6.8 kg (15 lbs)
D. Weight safety tab
E. Base
F. Lifting handle
There are 17 weight increments: