<h2>Best 2022 Low Seated Rowing Machine Factory | Manufacturer in China</h2>
● Full Motion Rowing: This Best Seat rowing exercise machine is designed for full arm extensions which can tone lower arm muscles, upper arm muscles, thighs, buttocks, calves, abdominal and back muscles as well. Perfect for toning your muscles and stimulating your blood circulation, you can exercise and keep fit.
● Adjustable Hydraulic: Up to 200 lbs of adjustable hydraulic cylinder resistance creates a versatile home rowing workout. Choose your resistant need and hold onto the slip-resistant handlebars for full arm rotations. Engage muscles in your full body with the cardio rowing machine built for tough workouts.
● Track Your Progress: With an easy-to-read LCD fitness monitor displaying time, count, total count, distance, calories burned plus it, and scans, you can customize your workout to reach your Goal. In addition, slip-resistant, comfortable handles provide additional control for your rowing exercise.
● Solid Steel Frame: Solid and sturdy steel construction is strong enough that can hold a max weight capacity of 220 lbs. It features high corrosion and wears resistance for a long time using. Specially designed for small spaces to use; for compact and portable to take, and for storing to save your home space.
● Comfortable Workout Design: Thoughtfully designed for maximum comfort. The large, anti-slip foot pedals come with Velcro adjustable straps that fit your foot and give you the confidence to engage those legs' muscles while rowing. The PU soft seat effortlessly glides across the slide rail and supports you for longer rides.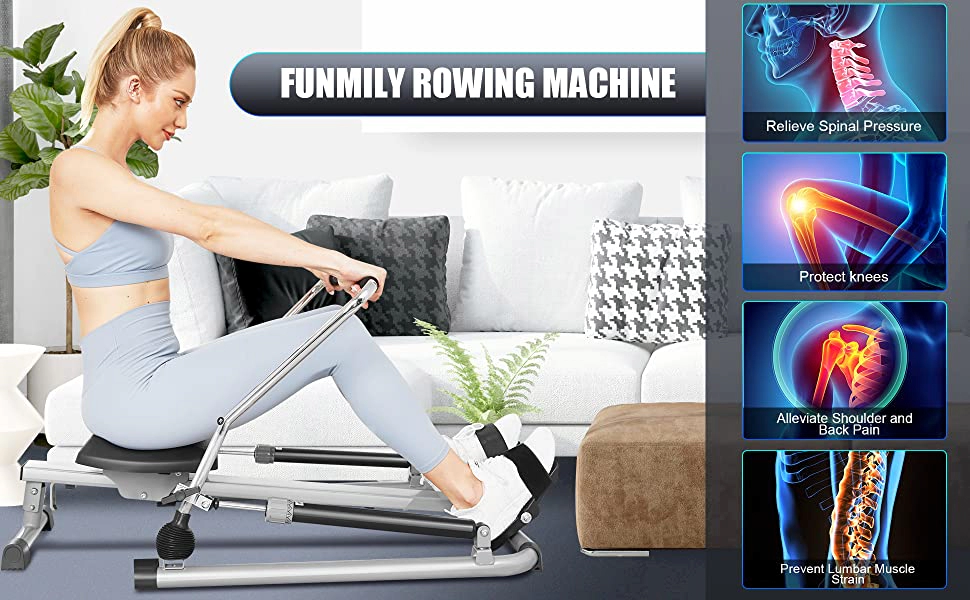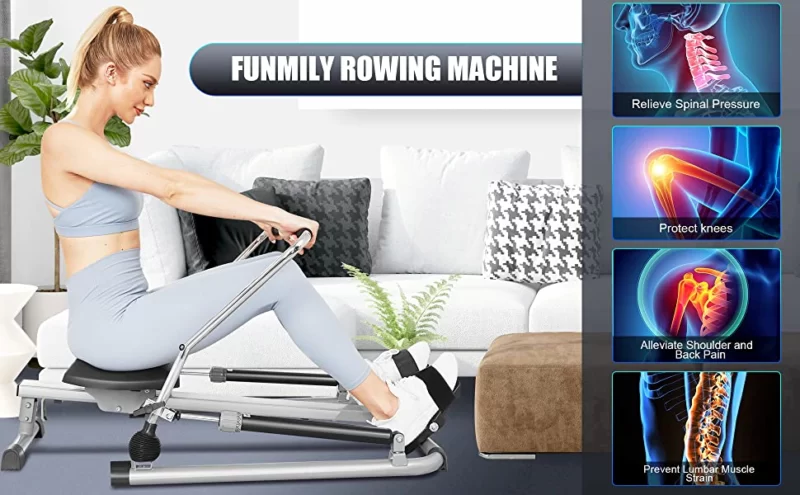 Use this Seated rowing machine for an effective aerobic workout for a full body that burns fat and builds muscles which help in weight loss. The magnetic rower features an adjustable resistance system that allows a variety of body types and ages to achieve their exercise requirements. It also has an easy-to-read LCD fitness monitor, soft seat, pivoting footplates with velcro adjustable straps, and comfortable non-slip grip handlebars. It is the perfect exercise equipment for your home or private gym.
Great exercise equipment for your home or private gym
Get a full-body workout, exercise different parts of your body with one tool
Up to 242 KGS double adjustable hydraulic cylinder resistance create a versatile home rowing workout
LCD monitor tracks your count per min, time, count, calories, distance, and scan
Constructed with sturdy steel for solid performance and durability
The PU soft rowing seat on rollers effortlessly glides across the slide rail and supports you for longer rides
Large pivoting pedals with velcro adjustable straps fit most foot sizes and make your feet remain in place
Conveniently store and take up less space when not in use
With a non-slip rowing handle for better grip
This Best Seated Rowing Machine Supports up to 120 KGS of User Weight